Who are we?
Guest Plumbing and HVAC Ltd is a locally owned and operated business located in Ancaster, Hamilton. We provide high-end, quality commercial and residential plumbing and heating services throughout the Greater Hamilton Area and beyond. As a local company established and grown in this great community, we have always appreciated every job opportunity that we have been afforded. We have entered into our 6th year in business and giving back to the community has always been one of our main priorities throughout the last five years. It is always a pleasure for us to be able to share professional career opportunities with the next generation of technicians and support non-profit organizations. Furthermore, we are honoured to be a member of the Hamilton Chamber of Commerce and West End Home Builders' Association, in which we can strengthen our business and grow together with extraordinary advocacy and incredible networking.
Community Events
Supporting Our Local Communities
To show our appreciation for our community as well as support those in need, the Guest Team is honoured to organize a variety of charitable projects each year. An important part of our culture is contributing our time and resources to support as many people as possible in the community that supports our operations.
We are also aware that many individuals and organizations have a hard time finding meaningful and trustworthy charity campaigns to get involved in and support with their donations. We are always looking to establish relationships with new partners and donors so that we can continue to develop meaningful social campaigns for the community.
To stay up-to-date with all of our upcoming events, or to see how you can become involved with one of our corporate sponsorship opportunities please fill out the form!
Earth Day 2022
At Guest, we believe it's always crucial and necessary to look for solutions to keep our planet the safest place for the next generation to live, grow and explore.
As Earth Day happens in April, our team desired to contribute our time and energy to make our community cleaner and safer for everyone. On Saturday, April 9th, 2022, we organized an event to clean up the area behind Hutch's on the Beach restaurant. We also provided free T-shirts, food and drinks to all participants.
With the support of over 70 volunteers, we collected approximately 20 bags of garbage. Our team couldn't be more grateful and humbled to have everyone's contribution to making a change for our community.
We especially want to send special thanks to all the event's sponsors. Without your donations, it would be more difficult for our team to accomplish this goal. Thank you, Acadian Driveaway, Team Shane, Duca Financial Services Credit Union, Building Dream Contracting, McCarter Unlimited, Clearleaf, Modern Design Studio, Fairway Building Supply, M Berman Homes, Alair Homes Oakville.
We're thrilled to see that Hamilton Beach is now cleaner and safer for everyone to enjoy hanging out during summer. Our team looks forward to bringing more solutions to keep our environment greener.
Holiday Food Drive
The Holiday Food Drive was our charity project encouraging everyone in Hamilton and surrounding areas to donate food and necessities to support people in need at the Welcome Inn Community.
"Welcome Inn's food bank is a place for individuals and families to access food and personal hygiene items." With a significant amount of everyone's contribution and support, we successfully provided over 1250 food and personal care items to individuals and families in need at the Welcome Inn Community.
Technology and Environment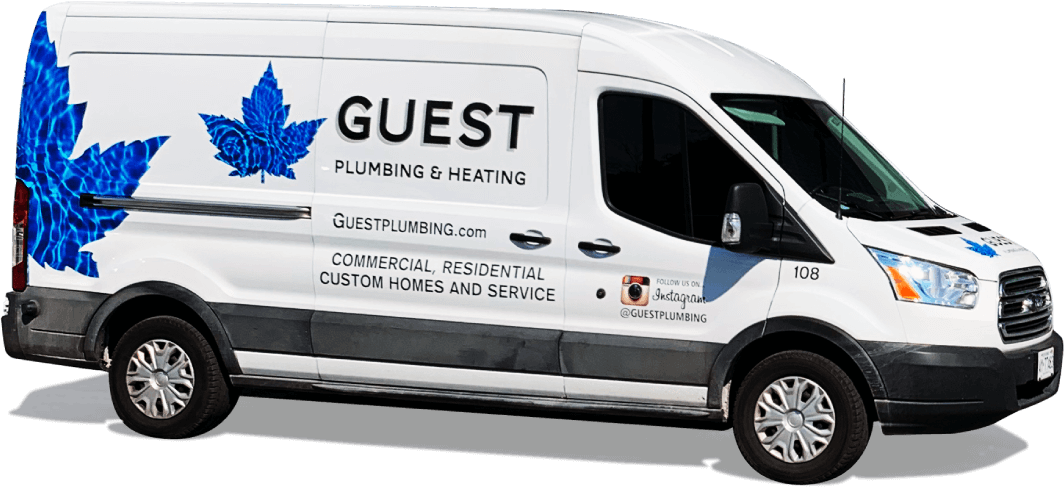 As a local Canadian-based business in an industry that is heavily involved with water, we are aware of our responsibility to provide high-quality service that is also highly sustainable and environmentally friendly. We understand that Corporate Environmental Responsibility can help businesses strengthen branding and build a strong reputation. Moreover, we want to be an organization that protects our community, homes, loved ones, and livelihoods. At Guest Plumbing and HVAC, we have applied the paperless method into our daily communication among our team members as well as between our company and our clients. It has been a game-changing experience because we have reduced the significant amount of paper usage and increased our working efficiency. As a result, we can contact our technicians and clients to deliver critical information in a quicker and more efficient manner. We are always looking into smarter plumbing innovations and green technologies to update homes and reduce carbon footprints for all.
Job Opportunities and Meaningful social campaigns
One crucial core value that we have always emphasized as a business is intentionally being grateful for our jobs and the community. We would not be the business we are today without the love of our customers, supporters and followers. Therefore, giving back to the community by creating more job opportunities for enthusiastic and hardworking individuals is what the team at Guest Plumbing and HVAC would love to do. Our community is full of highly qualified and dedicated craftspeople who we want to support and build their long-term career
Behind the rapid development of our city, we have noticed that many people have difficulty maintaining their essential lives with a shortage of necessities like food and clothes. Annually, Guest Plumbing and HVAC Team has the honour of associating with non-profit organizations like YWCA Hamilton, Wesley Urban Ministries and Movember. Together, we have launched meaningful social campaigns such as local Food Drives, Toy Drives, Walk A Mile In Her Shoes, Coat Drives and Movember. We always look forward to creating more relationships and getting involved in our community as much as possible. We are fortunate and grateful that we could contribute and support our community, and we are thankful for everyone's donations and help.
looking to start your career in plumbing or hvac? start with guest.