Benefits of a New Furnace
Some furnaces can last for up to 30 years, but if your current system is more than 15 years old and you've been having ongoing issues with it (like excessive noise, inefficient heating, or numerous repairs), you will want to consider getting a new furnace. There are many reasons to install a high-efficiency furnace in your Hamilton home:
Reduced Energy Costs: Efficient, well-maintained furnaces require less energy to operate, which saves you money on your monthly bills. New furnaces are designed for efficient operation, which can be an incredible improvement from a furnace that was designed and built 30, 20, or even 10 years ago.
Less Noise: With the latest technology, new furnaces are quieter than ever, allowing for a more comfortable living or working environment.
Fewer Repair Costs: If your old furnace is eating away at your budget with an ongoing need for repairs and replacement parts, a new furnace installation will help you save money on repair costs.
Improved Air Quality: Variable-speed motors allow for improved air flow, and fresh filters catch dust and debris before it circulates through your home.
Furnace Installation Experts in Hamilton Area
As your local furnace installation expert, Guest Plumbing & HVAC can help you determine which type of gas furnace or electric furnace is right for your home. We'll install your new furnace or furnace replacement with attention to safety and in alignment with local laws and building regulations. As a result, you'll enjoy efficient, even heating throughout home this winter and for many winters to come.
How do you know you need a new furnace? It may be a combination of factors:
You're building a new home and need to choose a heating solution.
Your current furnace is more than 15 years old.
You're regularly making repairs to your furnace, and the costs are adding up.
Your furnace is no longer heating your home evenly or to your desired temperature.
Your furnace is old and not equipped with the latest energy-efficient technology, and you want to replace it with a high-efficiency furnace that saves energy and reduces your monthly bills.
Contact Us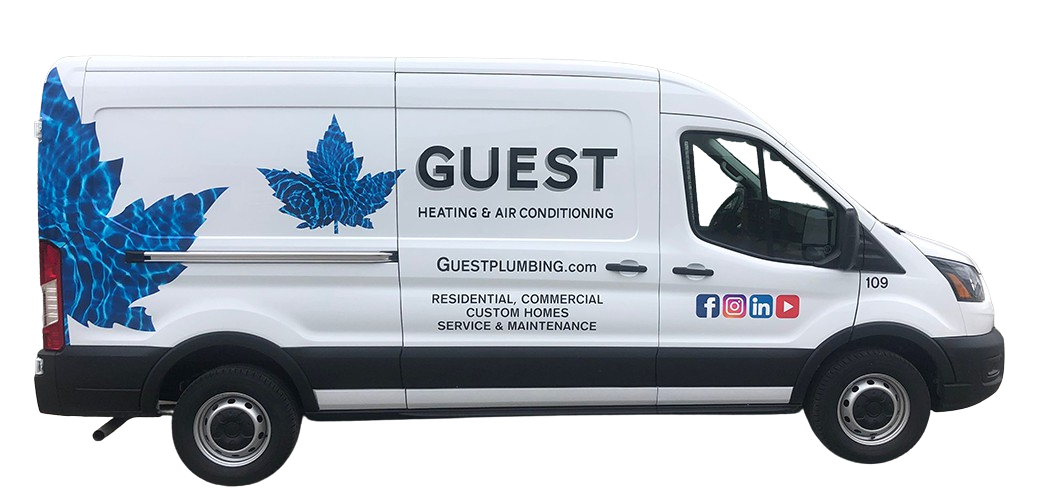 The Ultimate Guide To
Energy Efficiency
Why Work With Us?
For years, we've been your trusted residential furnace installation team in Hamilton, Burlington, and the surrounding area. We offer transparent pricing and friendly customer service to ensure a positive experience for you. Schedule your furnace installation at a time that works for you, and our team will work efficiently and safely, striving to minimize any disruption to your day. Contact us to learn more about getting a new furnace in the Hamilton area.
The three main types of furnaces are single-stage, two-stage, and modulating. A single-stage furnace has a single power setting: on or off. On the other hand, a two-stage furnace has two settings aside from on and off: low and high. The most advanced of the three is the modulating furnace which has variable heat output based on different heating needs.
The type of furnace you need will depend on your budget and home heating requirements. For those that live in mild climates and aren't looking for anything advanced, a single-stage furnace may be the best choice. These models are budget-friendly and cheaper to repair. A two-stage furnace is ideal for those looking for improved efficiency without a large price tag. They provide the option to run your furnace on high when it's coldest and lower during milder weather. Finally, modulating furnaces are ideal for those that want to maximize efficiency while optimizing heat output.
Yes, modern technology has significantly improved furnace efficiency. Models today are built to adhere to stricter energy efficiency standards set by the government. Therefore, even the simplest and most inexpensive new furnaces will offer more energy savings than older models. As a result, a new furnace will save you more money in the long run.
We Offer A Variety Of Financing Options. Find What's Best For You.