Central & Ductless Air Conditioner Installation
Whether you're looking for a split system air conditioner or a central air conditioning system, Guest Plumbing & HVAC can recommend and install the best AC units quickly and efficiently. If your home already has ductwork in place, it's typically more economical to install a new central AC, especially in larger homes where many rooms are in use at the same time. If you don't have existing ductwork, or if you prefer zoned temperature control where you can keep different rooms at different temperatures, a ductless air conditioner or mini AC unit may be a better choice. Either way, you'll enjoy the benefits of having a new energy-efficient AC in place:
Reduced utility bills
Reduced energy consumption for a greener lifestyle
Improved indoor air quality
High-tech options like smart thermostats
High-quality AC installation requires an intimate knowledge of all the latest systems and technology, as well as knowledge of local building codes and by-laws. If you require a new AC installation in the Hamilton, Toronto & surrounding areas, our team has you covered. Modern air conditioning systems are energy efficient to help reduce your environmental impact and save you money on your monthly bills.
When the time comes for a new AC system, including both mini split air conditioners and central air conditioners in Hamilton, Toronto & surrounding areas, we will take care of the entire process from start to finish, and we're here for all your repair, service, and maintenance needs.
When to Replace Your AC System?
It's obvious that your home in Hamilton, Toronto & surrounding areas needs AC installation, but it's not always obvious when you should replace your old AC system. If you have a central AC or mini AC unit, these are some signs that it's time to update your system:
Makes weird noises while running
Unstable temperature throughout your home or office
Increase in utility bills
Takes longer to cool your home or office
Your system is more than 15 years old
Contact Us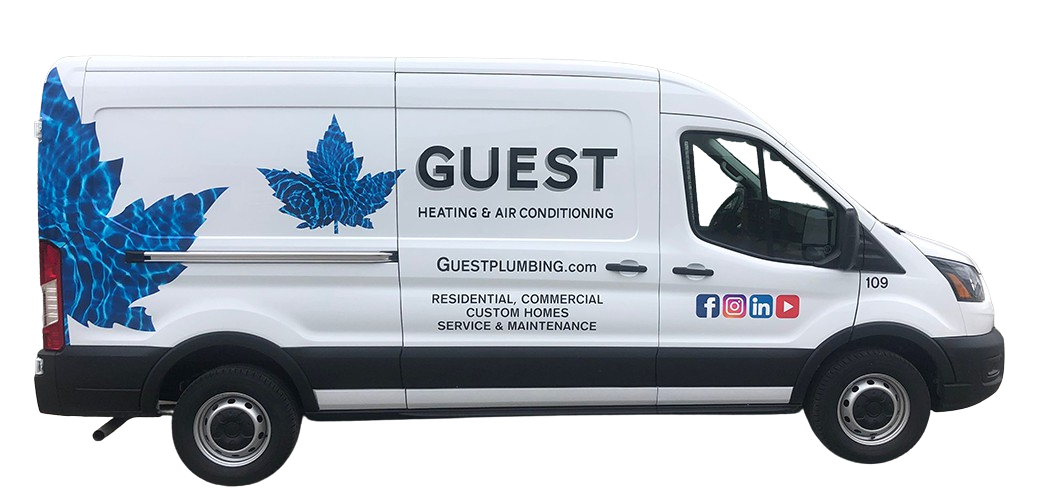 The Ultimate Guide To
Energy Efficiency
Why Work With Us?
When you work with the experts at Guest Plumbing & HVAC, you can expect exceptional customer service from the first phone call until your air conditioner installation is complete. Our attention to detail means that you won't have to call us back to make modifications, and we pride ourselves on making timely installations for the least amount of disruption to your lifestyle. When we arrive at your home our technicians will treat it as if it were their own, and we make a point of being upfront, so there are no unpleasant surprises on your bill. If you need experienced AC installation,
repair
, or maintenance in the Hamilton area, you can count on us to get the job done right.
Contact your local air conditioning contractors
for more information about split air conditioners, air conditioner condensers, and more.
We Offer A Variety Of Financing Options. Find What's Best For You.