Annual Furnace Service and Maintenance
Annual furnace maintenance keeps your system operating efficiently all winter long and offers a variety of other benefits:
By addressing minor issues in the early stages, you can avoid many costly furnace repairs.
A well-maintained furnace doesn't have to work as hard to reach your desired temperature, so it uses less energy and helps lower your monthly bills.
Regular maintenance gives your furnace a longer service life, so you won't have to deal with the cost of replacing it for years to come.
Dirty systems or broken electrical connections can pose a fire hazard—keeping the furnace clean and maintained is a matter of safety.
It's important to let a professional HVAC specialist perform your furnace maintenance in Hamilton. Many homeowners try to fix their furnaces on their own, thinking it will help them save time and money, but it often has the opposite effect. Misunderstanding the problem or making the wrong choice for your furnace can create greater inefficiency or even pose a risk. Only a trained HVAC contractor has the troubleshooting experience to correctly diagnose your furnace issues and suggest the appropriate remediation.
Our Furnace Maintenance Plans For Hamilton Homes
During your annual furnace maintenance visit, our HVAC technicians perform the following services:
Make sure the thermostat is working correctly
Change furnace filters
Clean the system to remove dust, debris, and residue
Check the heat exchanger for damage or corrosion
Inspect electrical connections and wiring
Perform combustion testing
And more
The team at Guest Plumbing & HVAC is highly trained and experienced, and we work with respect for your home and your family, with minimal disruption to your daily life. A broken furnace is a serious matter in the middle of winter, and our furnace maintenance services are designed to keep your system running smoothly, so you can avoid a catastrophic breakdown.
Contact Us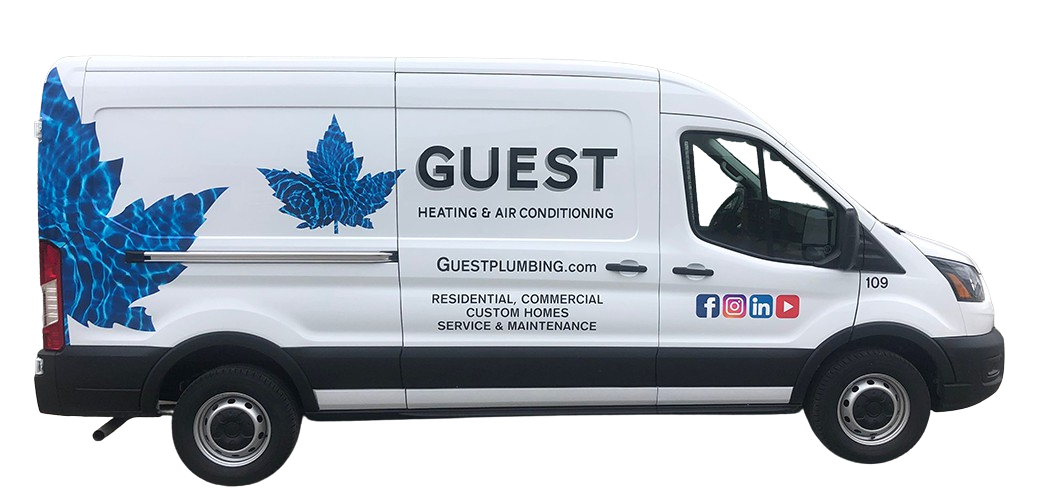 The Ultimate Guide To
Energy Efficiency
Why Work With Us?
With transparent pricing and a commitment to guiding you through your options and helping you understand what we're doing and why, we strive to create positive experiences for all our customers as we keep their furnaces in top condition. Schedule your annual furnace maintenance with us, and enjoy clean, reliable heating all winter long. Contact us to learn more about furnace maintenance in Hamilton, Burlington, and the surrounding area, and schedule your first furnace service visit.
Most HVAC technicians will strongly recommend having your furnace serviced at least once a year. You may be tempted to delay maintenance if you're trying to save money, but keep in mind that unexpected repairs cost far more than an annual furnace service. It's best to book your furnace maintenance in advance each year so that you stay ahead of any potential issues.
As the old saying goes, an ounce of prevention is worth a pound of cure. By purchasing a preventative maintenance plan for your furnace, you ensure it works optimally year-round. Regular servicing keeps parts clean and free of debris, while inspections can alert you to potential issues that might cost more down the line. In short, regular maintenance is the best way to prolong the life of your HVAC appliances.
For annual servicing, it's best to schedule a maintenance appointment in the spring or early fall. During the spring, maintenance technicians will have more availability to service and inspect your furnace. If you need repairs, then it's best to have these done during the warmer months when you don't need to heat your home. In the early fall, an inspection will ensure your furnace is in good working condition for the cold months to come. Keep in mind that technicians will likely be busier at this time of year than in the spring.
We Offer A Variety Of Financing Options. Find What's Best For You.