24/7 Emergency Furnace Repair
Our emergency furnace repair services are available 24 hours a day. If your furnace stops working altogether, you know you need to call in the experts. However, there are some other indications that furnace service is necessary. Watch out for issues like these:
Strange odours or noises
Difficulty turning your furnace on or off, or difficulty keeping it running
Poor indoor air quality
Higher than normal utility bills
Failure to produce the desired temperature on your thermostat
Uneven temperature distribution throughout your home
Pilot light changes colour
Don't try to diagnose or fix your furnace by yourself. There are many factors that could be contributing to the problem you're having, and failure to address them appropriately can lead to bigger problems in the future. An experienced HVAC team can identify the problem and suggest the best solution, saving you time and money in the long run.
Professional Repairs for All Furnaces in Hamilton Area
Whether you have a propane,
natural gas, oil, electric, heat pump, or dual fuel furnace
, the HVAC repair team at Guest Plumbing & HVAC can fix it. Our team will inspect the unit thoroughly, checking for problems like these:
Broken blower motor
Trouble with the gas sensor
Dirty filters or clogged condensate drains
Malfunctioning humidifier
Inaccurate thermostat or faulty smart technology
Leaks and cracks
Damage to wiring and connections
Rust and corrosion
Issues with safety switches and controls
General wear and tear
After we fix your furnace, you'll enjoy reliable heating throughout the winter, along with improved indoor air quality, reduced energy expenditure, and more.
Contact Us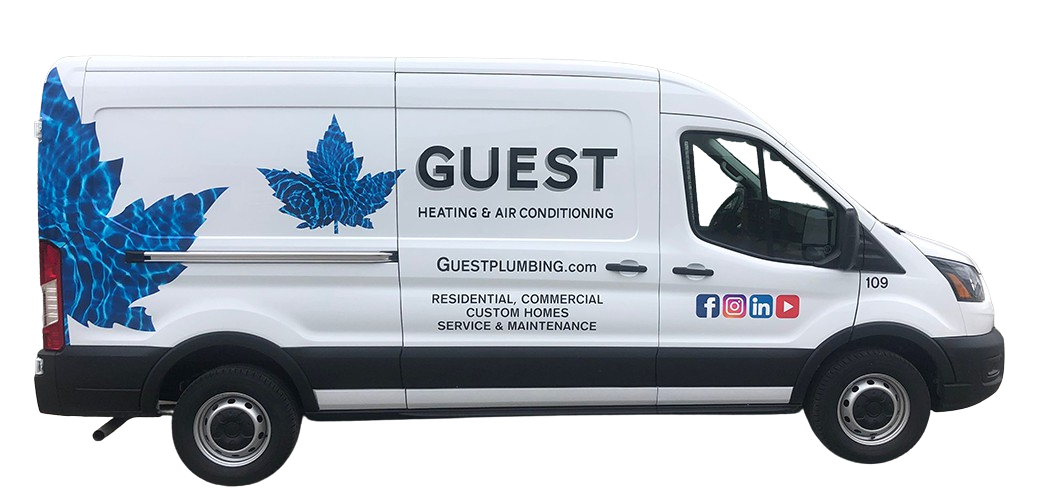 The Ultimate Guide To
Energy Efficiency
Why Work With Us?
Our furnace repair team arrives quickly and works efficiently to minimize any disruptions to your daily life, and our pricing is transparent and budget-friendly. Prompt service is essential for your comfort and safety, and that's a responsibility we take seriously. We'll diagnose your issue and explain what we need to do to fix it. During the process, we'll communicate with you so you understand what's happening and why it matters. We'll have your furnace operating efficiently again in no time, whether you call us in for emergency furnace repair or schedule a non-urgent repair at a time that works for you. Contact your local HVAC repair experts for furnace repair in Hamilton, Burlington, and the surrounding area.
When deciding between repairing or replacing a furnace, HVAC experts recommend replacing your appliance when repair costs exceed 25% of the cost of a new furnace. It's also worth noting that a new furnace can save you more in the long run. Although there may be fewer upfront costs associated with a furnace repair, a new furnace will be more energy efficient, resulting in less wear and tear over time and greater utility savings.
You can usually tell when your furnace needs immediate repairs based on any noises it may be making. If you hear loud banging, metal scraping and grinding, high-pitched squealing or non-stop rattling, then it's time to call an HVAC technician. In addition, if your carbon monoxide alarm goes off, you must evacuate the home and call 911 before scheduling an emergency furnace repair.
We Offer A Variety Of Financing Options. Find What's Best For You.